Stove in a Can
Ideal for Emergencies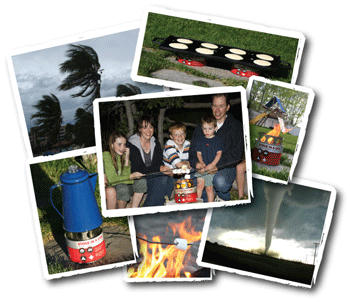 STOVE IN A CAN is perfect for emergency preparedness, outdoor recreation, and many other applications. Virtually anything that can be cooked on a regular stove can be cooked on STOVE IN A CAN.
» Superior Performance: Boils water in 5 minutes and cooks for 4 to 5 hours
» Safe: Uses a non-explosive fuel source that is waterproof and can be stored indefinitely
» Complete and Easy to Use: Includes stove, fuel, cooking platform, and waterproof matches
[ SHOP ONLINE NOW ]
There is a clear need for every home to have a safe, affordable, reliable solution for cooking and boiling water.
Great for Recreation
STOVE IN A CAN provides a campfire-like experience whether in the mountains or in your own backyard.
Finally a simpler, safer, more affordable, and more convenient solution for cooking and heating outdoors.
» Affordable Under $30 for complete stove and fuel
» Convenient: Compact, lightweight, ready to cook in 1 minute
» Durable: Can hold over 300lbs
» Contained: Use where other fires are not permitted
» Environmentally Friendly: Uses recycled materials and leaves no trace
STOVE IN A CAN is Great For Tailgating
» No hassle of hauling the backyard grill to the game
» Open flame, so you can roast hotdogs and marshmallows just like a real campfire
» Small and fully contained, so safety concerns are mitigated
[ Stove in a Can Instructions ]
---
ReadyPlus by Fulfords for disaster preparedness and emergency heat, cooking and fuel sources. Also great for camping, hiking and out-tripping. Your Stove-in-a-Can supplier. Based in Ontario, Canada, we ship Nationwide. Your Canadian emergency preparedness supplies and disaster survival gear headquarters.
[ SHOP ONLINE NOW ]